Deadly Jammy! Irishcoolman won the National Mock Drafts Contest!
The draft ended two days ago, and I know exactly what you're thinking… where in the hell is my 2018 mock draft?
Patience, my friends. It's coming. Along with 2018 NFL mock draft contests.
But we can't inform future mocks without looking backward at what worked. And we'll never be closer to what's behind us than we are right now.
So let's have a look-see at Irishcoolman, and what made his mock draft entry into the National Mock Drafts Contest so impressive.
Before we get into that, I'd like to point out that this was a SINGLE-ENTRY mock draft contest, so any entrants who submitted multiple entries were disqualified from this contest. Sorry Chriscranston. You did well, coming in third place in the main contest with that same entry. But just like Natemurcutt beat you in that contest by predicting the Reuben Foster and Takk McKinley trades, Irishcoolman beat you in this contest by following the rules. Still, very impressive.
So let's get into it! What made Irishcoolman so cool, man? So Irish? Such a winner?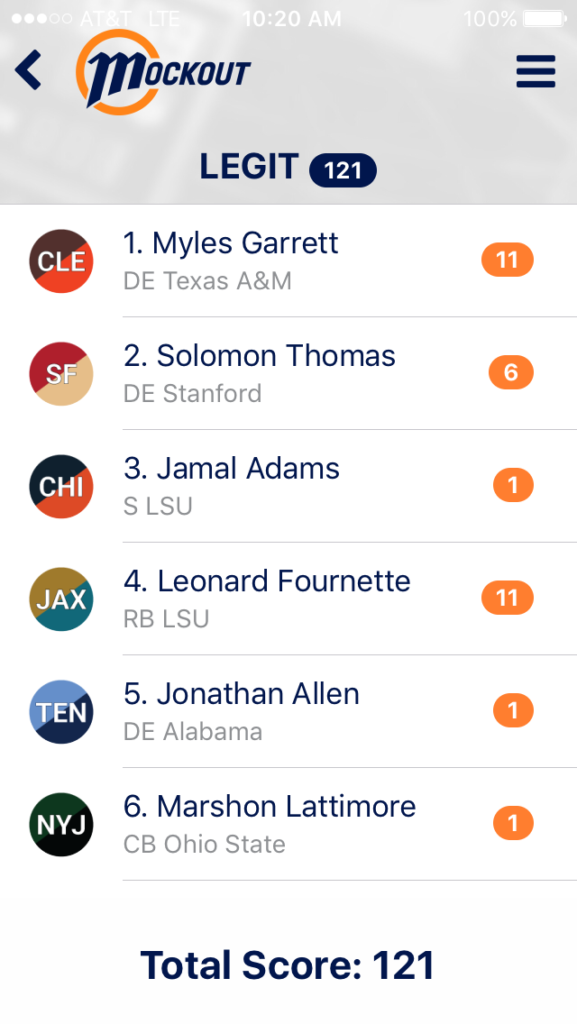 Starting off with Garrett was easy, despite the weird rumors.
Solomon Thomas at 2 was a good bet, since SF took him he got 6, but Chicago could just as easily have taken him there, for a different 6.
I thought the whole time that Fournette to Jacksonville wasn't a good scheme fit, but I should have trusted popular opinion (and National Mock Draft's opinion) and just gone for his immense talent. Irishcoolman did, and was rewarded with a slick 11 points.
He missed no first rounders in his top-6, which is obviously important.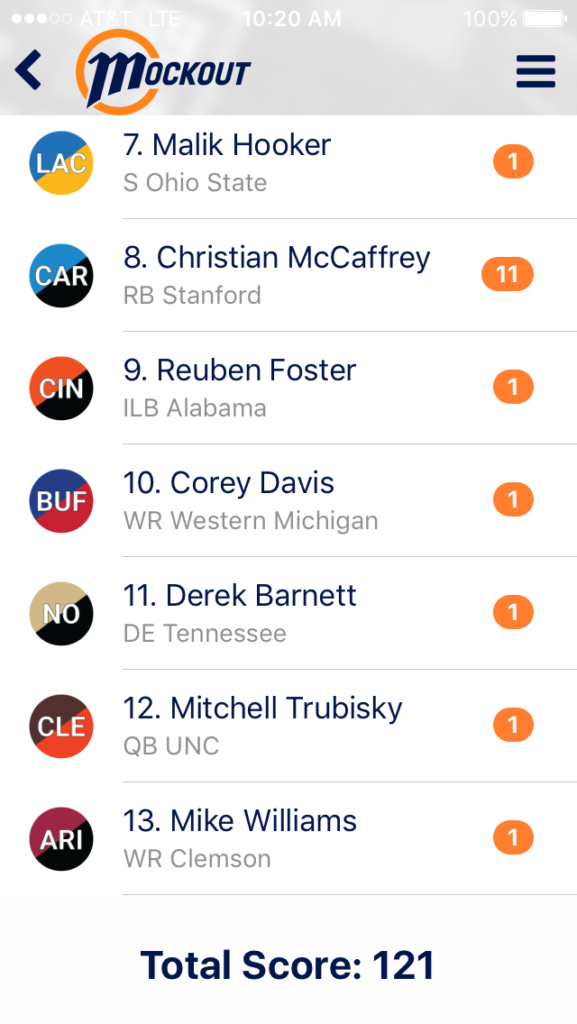 Nailing both Fournette and McCaffrey was very impressive. Both were popular picks, but both reeked of smokescreen. Irishcoolman apparently has a great smokescreen detector, and these two picks passed his test.
Picks 9 through 13 had to make him nervous though, as he suffered through a lot of misses in this trade-less mock, while many other mock drafters were getting that 20 point trade bonus by predicting Mahomes to the Chiefs and Watson to the Texans in this range.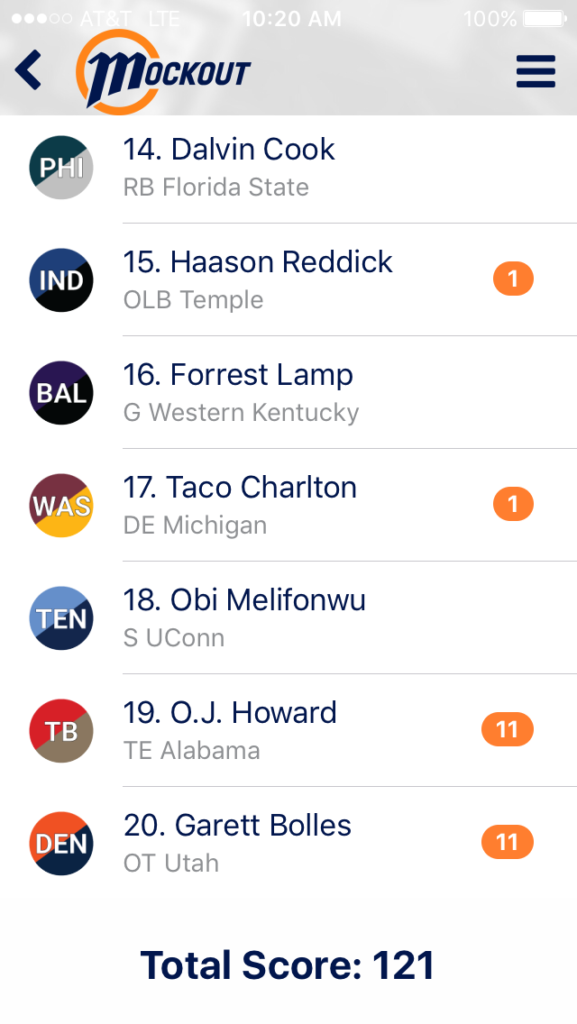 Another rough segment of his mock, picks 14-18, where he missed on 5 first rounders altogether. But that only made what was coming so much sweeter…
O.J. Howard slipping to the Bucs? How? Why? How? How did he know that could happen? Howard is the best blocking TE many scouts have ever seen, and has all the raw tools in the world to be the next dominant receiving TE as well. I'm amazed that he fell. I am equally amazed that Irishcoolman knew he would fall, and knew the perfect team to stop his fall.
Nailing Bolles right after that pick had to get him feeling lucky as well…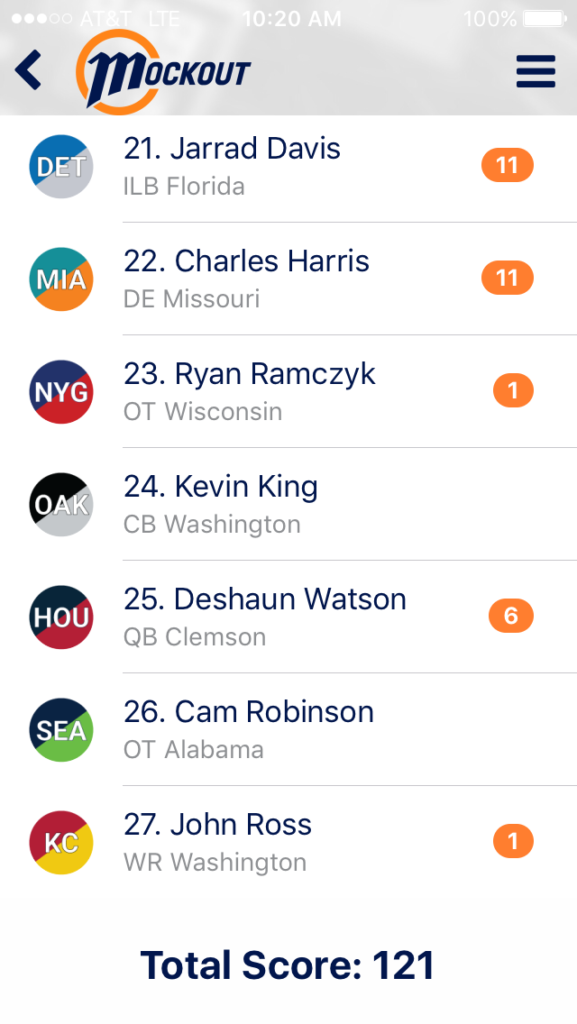 Here is where the magic happened. Four. Consecutive. Picks.
Many experts do not get four picks right in an entire mock draft. Irishcoolman nailed four CONSECUTIVE picks. This run of dominance is amazing, and ending it with Harris to the Dolphins was beautiful. Harris was being projected top-10 by some, a second rounder by others. He ended up falling in the middle, and this mock found the ideal landing spot for him, giving him to a team in need of an impact 4-3 DE.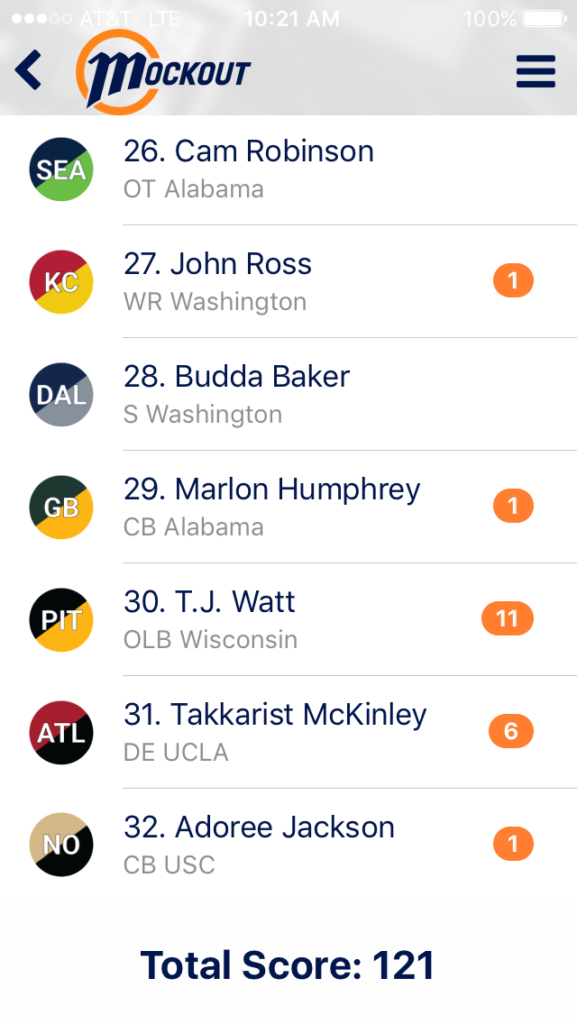 But it couldn't be THAT easy. Due to predicting no picks, Irishcoolman still had to come back from a deficit created by mock drafts that predicted the Mahomes and Watson trades.
After getting only 6 points for the Falcons move up for Takk, and Adoree Jackson and Marlon Humphrey having already been picked, Irishcoolman had only one chance. He needed Pittsburgh to select Watt.
And of all the teams who wanted Watt, and all the prospects being rumored to have Pittsburgh's eye… the magic combination happened. The only chance he had, and it hit. Well done, sir. Well done.
Once again, congrats to Irishcoolman for winning the National Mock Drafts contest. Thanks to National Mock Drafts for sponsoring the contest, as well as for their on-point player rankings and fantastic scouting reports.
And thank YOU for playing. I know you lost. Don't worry. I did too. Badly. It only makes me hungrier for the 2018 NFL Draft. It's time to get studying!